Download as PDF
What every trail runner tries to do once is to take part at the UTMB in chamonix in france, to take the 100 miles run around the mount blanc. The trail runners pass through 3 countries (France, Italy, Switzerland) and have to manage 10000 meters in height with over a distance of 168 km (100 miles). The maximum time for finishing is 46 hours. The race started at 16:30 on Friday the 30.9. and ended at 14:30 on Sunday at the 1.10.. The last 10 times the race took place, only 4 times i had been on the original trail. The other times, because of bad weather conditions, it has been shortened or rerouted. There are several points around and above 2500 m to climb with the highest Grand Col Ferret at 2537 mH and depending on the weather conditions, there can be snow on the trail.
Here is the profile of the trail.

I prepared myself for over a year for this race. I made 3000 running and trail running km, with 74 km in height and trained during winter until summer, with about 50-100 km per week. Doing long endurance sports since many years, i managed to get through my trainings plans quite well. Although i was not running that much in the past, mostly triathlon before, i suffered from two three injuries. One stopped me completely about three weeks in the summer. But  others i could life with quite well. I was used to endurance races, but running distances this long, was also quite new to me. I started in summer 2012 with my first 100 km running race. I never did a marathon until know. It is not the kind of race, i prefer.
Managing this amount of running km, i managed to find some new ways of running techniques and a lot about my running in general, that helped my to be better prepared and save myself from more injuries. Also taping was one of the new things that i found helpful and sometimes a good support for long distances. Probably mostly useful, because i was really not that used to these kind of distances.
I arrived on Thursday, just one day before the start in the morning. It is a good idea to have some time. Since registering and acclimatise takes some time. I registered on Thursday and it took about two hours to get my starting number.
You have to wait a long time. But of course nothing compared to the time you will spend on the trail. Luckily the weather was quite nice.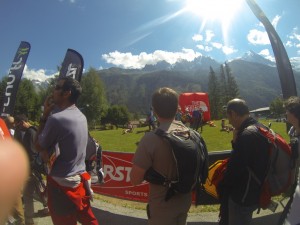 After two hours the line even got longer.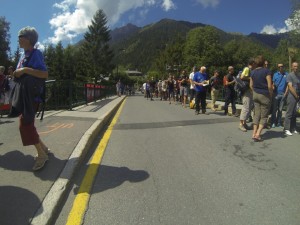 That is a long time and this could be enhanced. You get a band on your wrist, where the race you take part is inscribed.
Also you have to deposit 20 euros for your bib on your race number. An identity card is required. At the end of the race, you will get back the 20 euros for your race bib.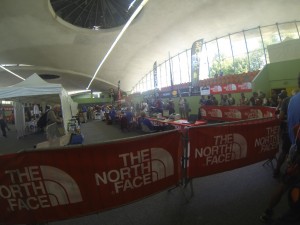 After that, you can place your drop bag or later just two hours before the race.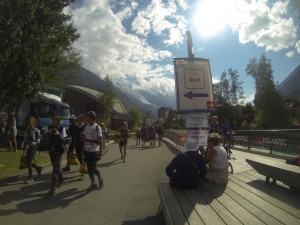 The sign, tells you where to go. Your drop are stored with 2300 other bags in a safe numbering system. Everything is well organized.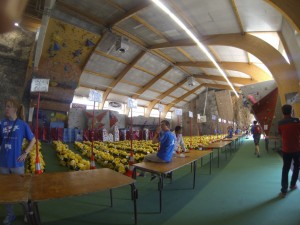 However not at the drop bag station but during check in your equipment will also be controlled. You have to wear and bring with you the following things:
Backpack with
a mobile
bladder with at least 1 l
a cup
two head lamps or lamps with replacement batteries
survival blanket
whistle
adhesive band
food reserve
waterproof jacket with hood
long running trousers
warm midlayer top with long sleeves
cap or bandana
warm hat
waterproof gloves
waterproof trousers
Also your passport might be needed, if you were controlled during the race, while passing a frontier.
During the race, there is a station, where your equipment will be checked. So you will not be able to proceed, if there is something missing. You can check out all the regulations for the UTMB on this page.
After that you can enjoy the nice region around the mont blanc. The weather conditions had been just fine. Also during the whole race, they had been just perfect.
There is a program where talks are held during the whole event.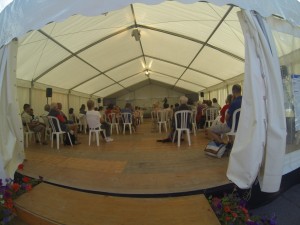 Also the Expo is quite nice and worth a visit. It's trail runners paradise, if you are looking for some equipment.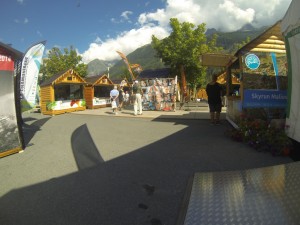 Advertising stand for the Lavaredo trail and many other trails.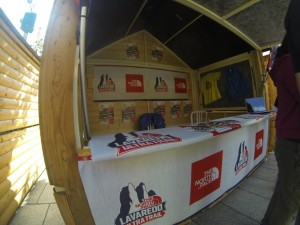 This stand with UTMB equpiment.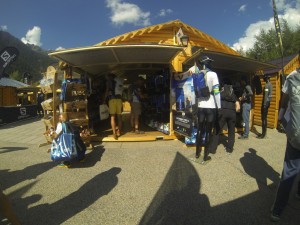 Thats what is sold as waterproof gloves there. You can see the gloves also in standard household or kitchens.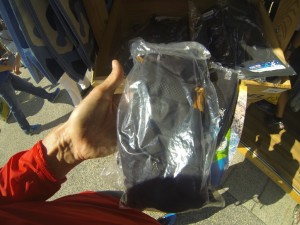 Stand from Haglöfs. Very colorful.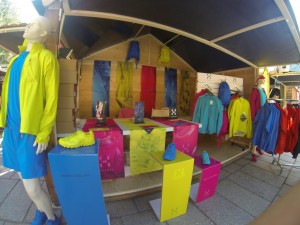 At Friday the race started on time at 16:30. You are one the crowed there.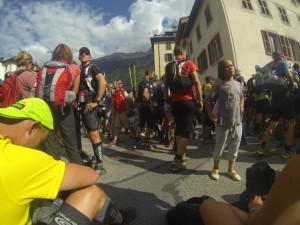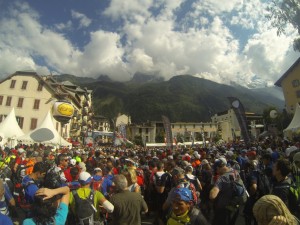 No way to get a fast start. The crowed has started to move forward. But for the next 30-50 km you will not be able to get much faster than the crowed.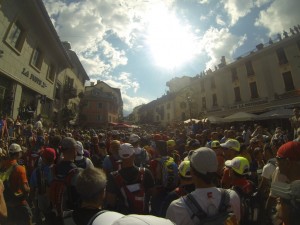 For the first night there very often only single trails, where you are not able to overtake. For runners who have to problem to start to fast, this is a real advantage. Since you are not able to overtake, you can not go to fast. This can be an advantage.
After 15 hours i reached the first half of the race at Courmayeur. I changes clothes and shoes and after 40 Minutes i went on for the second half of the race.
Starting from Courmayeur in the early morning.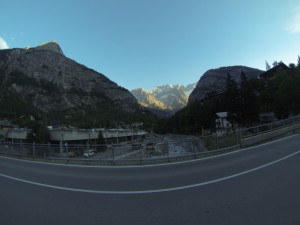 Nice views with stunning weather the next day.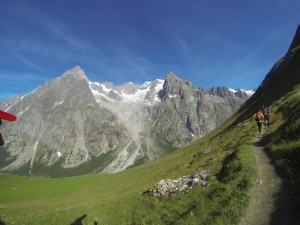 One of the checkpoints with runners.
This time the weather was just fine on top of the highest point of the race at the Grand Col Ferret at 2537 mD+.
.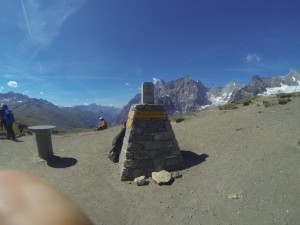 Thats where the downhill begins.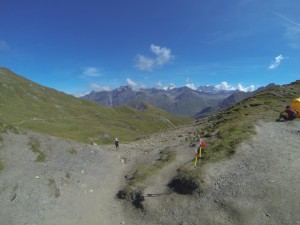 This took me again another 21 hours. Much more than i expected. But i was just much to optimistic after the first half of the race. But it had become much harder as i thought. But what i found, many parts of the race are also a mind game. You can run much faster if you do not think much about the pain and the distance that is still to come. But this is easier said than done. I have struggled myself several times, thinking about the distance, that is still to come during the race. Especially in the second half of the race.
I'm not used to caffeine. So with some caffeine and some cola it was possible for me to run the whole distance without sleeping. Only the last hour, i got sleepy. But until then i was just fine.
Here is a nice video race report from UltraTrailTV
I arrived around 5 o'clock in the morning on sunday. Some people standing there and cheered up.
Here is my grading. Any comments appreciated.
grading overall: 9 pts
route: 8 pts
difficulty: 6 pts
markings: 8 pts
organization: 9 pts
food: 10 pts
costs: 8 pts
fun: 10 pts