Download as PDF
In Germany Grainau the zugspitz trail running event took place again this year.
Three distances took place on the 22.6.2013.
There has been the Basetrail (35, 1900mD+), Supertrail (69km, 3100mD+) and Ultratrail. I have done the Ultra Trail and was able to do a late registration, just the evening before the race. There was no extra charge for that. Normally you would be charged an extra fee for not registering online before.
The weather i call was "wellness weather", not to warm, in the mountains pleasant cold and only very little rain. Just some days ago it was very hot. At 700m it was about 18 degrees. And around 10 degrees in 2000m. Sadly it was quite foggy in the mountains. So i was not able to see to much from the surroundings. But sometime the fog and the clouds thinned out a bit and i was able to get a glimpse through.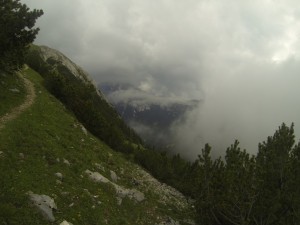 Most of the trails had been single trails through the mountains. Some have been also streets. Many of them could be passed easily. Some passages have been a bit dangerous, that should be passed with care and slowly. Downhill there have been quite often stairs, with big gaps. That made the way down difficult. Altogether it was a great trail.
I change clothes and shoes at the 54km checkpoint. That was a really good idea. My knee was hurting. And afterwards i got much better. Seems like the shoes before have been quite worn out. I ran with the new La Sportiva Crosslite afterwards. The give a good support and stability to the foot.
The trail got quite long. After the first two mountains and the checkpoint for bags, there had been a longer flat distance, where you could speed up again. Only little altitude differences. But then in the end you had to go up to 2000m again and about 10km down again. With a lot of slippery stairs.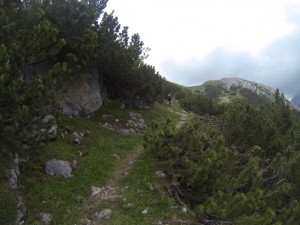 Quite foggy in the mountains. If you have missed you connection to the runner in front of you, you might have been searching for the path.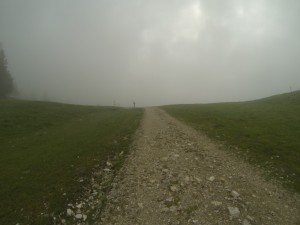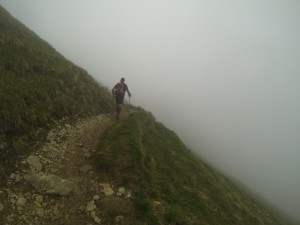 Altitude gain with a high gradient. Without trekking poles it was difficult to ascend and keep up with the others.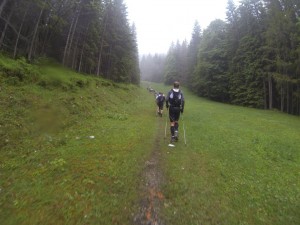 One rare moment, where you could have a great view of the mountains in the dusk.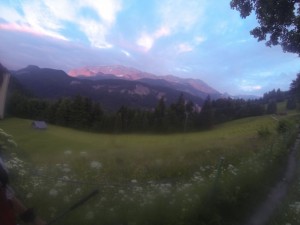 I had difficulties to find the right way in the fog sometimes. I you have been able to follow others close behind, id has been difficult to find the right way on the top of the mountains.
At 2000m there had been some bigger snowfield. One of them all had to cross. You could try skiing there. For safety there was a rope installed, where most of the runners slipped down along. Some of them also sweared at that. Some really skied down without falling.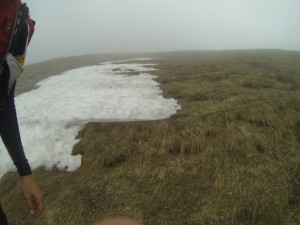 Muddy trails through snow and fog. It was cold, but not windy. Only sometimes it was slippery. But you could slip just down through a whole snow field, if not paying .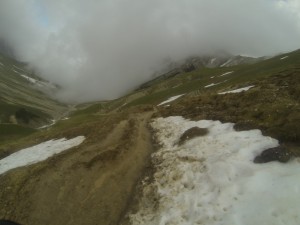 These signs glow in the dark. The have been set at major changes on the way. The track was very well marked. There had been arrows, ribbons and colored dots on the trail in short distances.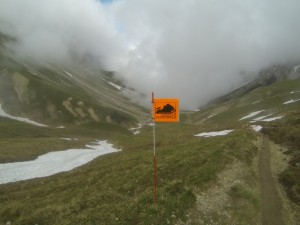 Food was quite good. But drinks could have been better. There was something called "High Five". That should have been and Iso drink, but it most of the time was very thin and tasted hardly more than water. I was glad i had my own Iso sachets with me.
Luckily i found the Outdoor-Physio. They not only massage you just right before or after the race, you can also ask them to tape you. Take a look at their homepage, where you can find them at the next race. They are really good.
Here is my grading. Any comments appreciated.
grading overall: 8 pts
difficulty: 6 pts
markings: 9 pts
organization: 9 pts
food: 7 pts
costs: 8 pts
fun: 8 pts