Download as PDF
Hey, any season was available during the race.  What a great one. But honestly, it was most of the times quite cold, but there has been rain, sun, snow and snowfall during the race. Most of the wintertime's had been at the beginning during the first and second climb upon 1500m. But as said, you should have been prepared. Otherwise it could become quite cold in the mountains.
As said the race started at 6:15 right at vallorbe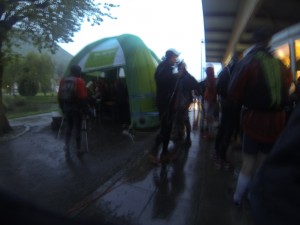 and finished at the sports hall in Le Sentier. From there you have to go back to vallorbe by train on you own costs. There is no lift from the organization and the train ticket is not included in the starts fee. You could have you luggage transported from the start to the finish or you can take the train in the morning from the finish to the start. Anyway, you should take that into account.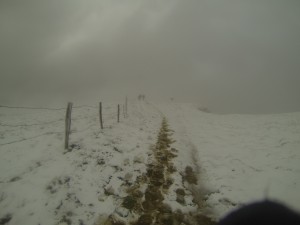 There had been wind and snow and fog from 1300m to 1500 m.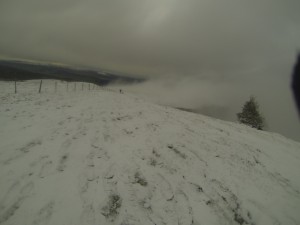 Great weather changed into snow and vica versa. Very nice landscape and an easy and not very technical race. You could chose between 18, 33 and 56 km. The 56 had been shortend about 1,5 km because of weather condistions.
Altough the track was not difficult, it was sometimes very muddy and slippery because of the rain during the race and before. Temperates have been between -2 and 9 degrees.
In the mountains there had been a lot of snow.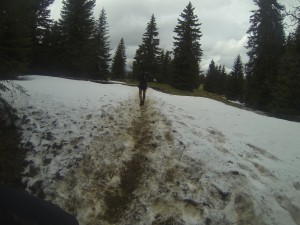 Every finisher got a slate slap with cheese and sausages on it.
Here is the slat slap.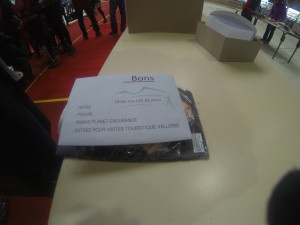 Thats the finish line.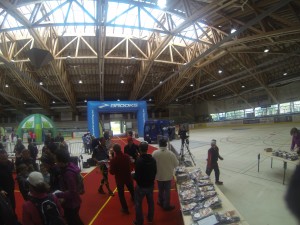 Here is my grading. Any comments appreciated.
grading overall: 8 pts
difficulty: 3 pts
markings: 8 pts
organization: 8 pts
food: 8 pts
costs: 6 pts
fun: 7 pts