Download as PDF
"courir pour le plaisir" (run for fun) is the motto for the trail in Belgium. It's really a relaxed atmosphere.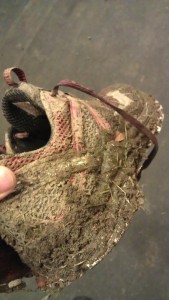 Its a run for fun and it's also a mud party. Tighten your shoes really well, i have seen several runners losing their shoes in the mud, cause the shoes got stuck firmly in the mud and the shoes could not follow the runner as fast as he wanted.
The waether was just fine during the day. It was also quite warm, with about 10-12 degrees. In the beginning it was raining a bit, but during the day even in the afternoon the sun came out.
In the morning i arrived at 7:15 and the registration was easy and quick.
I had paid in advance but you can also pay at the registration desk just before the race. Little by little the sports hall filled up. Most runners are from Belgium, but there are also quite a lot from the Netherlands and from Germany, since boarders are quite close.
The start was on time at 10 past 8. Because of a hunting on the track during the day, the race was shortened about 2 km they told us before.
Sunrise was just about that time, so if you are able to finish in less than nine hours, you do not need to take a lamp with you.
Every 16 kilometres there is a care point. Normally they have only water there, but at some stations there had been also iso drinks. But i suggest, to take some powder with you, if you depend on that. You could also get rice pudding, raisins, cookies at the first two stations. After 48 km there had been also a warm given to the runners. The last stop at kilometer 64 is really just very close to the finish.
During the race to are running through the beautiful landscape of Belgium.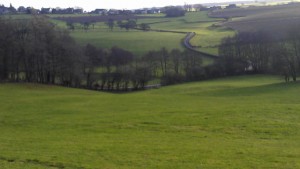 In Belgium the typical weather at that time of the year is cloudy, rainy, windy and also could. So when your running the small trails, they are, depending also on how many have been running in front of you, quite muddy and slippery.
The registration fee for the trail is just 10 euro. And i wonder, how you could organize a whole race and also it's possible to get a t-shirt and also meal after the race.So that's the shirt. Nice color, eh?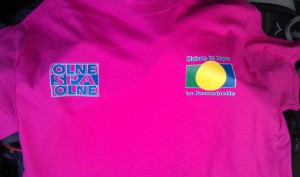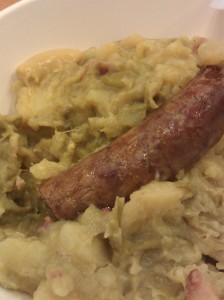 The meal was a stew (potatoes, beacon, cabbage) with a sausage and mustard. Maybe it look not as good as it tasted. So great race and great organized. Thank you very much.
Take care and have fun.
grading overall: 8 pts
difficulty: 4 pts
markings: 9 pts
organisation: 8 pts
food: 6 pts
costs: 10 pts
fun: 9 pts