Download as PDF
This is a "small" race. Only about 20 runners started for the two days. There are other distances of 25 and 50. Only about 250 participants are allowed. The reason for this was said to keep the balance between nature and trail running.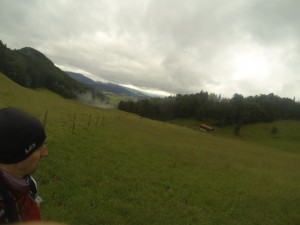 The markings sometimes where just missing and it would have been difficult to find the way without gps or map. Most of the times, about 80% of the trail, the normal yellow trekking sings have been the marking. Only where the trail takes another path, there had been extra markings. Interestingly this had worked altogether quite well.
The logment had been a bunker. But there was anything needed. A very good massage was there also available after the race.
I only managed to make the first day. I had a muscle strain after km 70 and then i was only able to walk. But i walked into the finish and made at least the 100 km for the first day. That was not really clever with a muscle strain. But i had that never before so i was not able to judge that right. I even tried to strech. That should never be done with a injury like this. In the end i was not that bad. I could still walk slowly. Had some problems walking downwards. And i took about a 1 1/2 weeks for me to recover from this.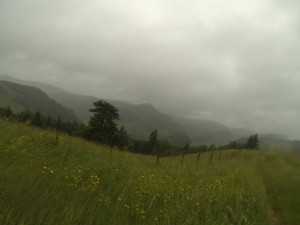 From km 20 to 70 you would never cross a road with cars, you stay only on single trails or smaller paths. Hight went only up to 1200m. Typical for the Jura Mountains.
During the morning we had a lot of rain bit clouds cleared around 14 o'clock.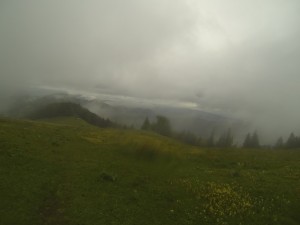 Altogether the race was really well organized.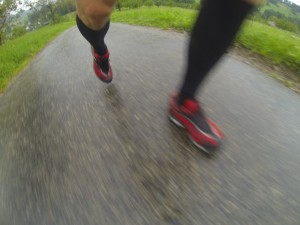 Gerdas Spaghetti hat have been great.
One checkpoint i arrived had been a cowhouse. The cows have been listening to Bob Marley and "No woman no cry". Enough grass was even already there. Only the palms where missing. Next time i will take a photo there. There have been also a lot of spectators watching at you during the race.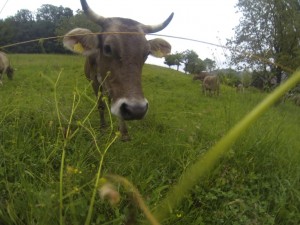 Most of the runners arrived the night before. Since the race started at 5 in the morning. It ends a 22 in the evening and this is not really much time if you are not a fast runner. But they have not enough personal to support the event also in the night. So we started when the lights went on and finished when the lights went off.
This track is not the full distance, as it was shortened during the race, because of bad weather conditions.
Here is my grading. Any comments appreciated.
grading overall: 8 pts
difficulty: 5 pts
markings: 5 pts
organization: 9 pts
food: 8 pts
costs: 7 pts
fun: 8 pts