Download as PDF
The weather was fine, like always, if you want to say so. It has been the weather like the past three years. Even this time it had been some clouds there in the afternoon, so it was even better weather for running.
This race is a trail running event, but also kind a logistic event. If you have not made it before, you will have to do some planning on where to stay and where to start and where to head off back. But anyway, everything starts in Alpnachstad, where you would get your race number and where you had been able to drop two bags, on for the finish on the Pilatus and one for the Brünning Pass, about at km 32.
The race starts at 6:45 but until you get there, it can be a long way. Since you have to take the Bus from Alpnachstad at 5 o'clock and first go to Engelberg (change to train in between) and from Engelberg there is a gondola to trübsee. That is then the stations where you start. The race then finishes at Pilatus from where you have to take a train down to Alpnachstad. So getting to the race and leaving the race take about 2-3 hours.
I stayed at the domitory, for 25 euros per night. That was in sarnen and at the local firestation. It was convenient and with earplugs not problem to sleep at.
But if you had made it and have left the logistics behind, it and have seen the nice landscape in Entlebuch (Unesco Entlebuch Biosphere), it might be worth it. Just decide yourself and take a look at the pictures i have made.
Thats in Alpnachstad, right also next to the train station.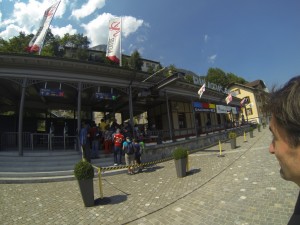 Many lakes and fast paths. This race is not very technical.
The race starts slowly, where all runners must line up in a row the first 2 km up. There is a cow gate, where all have to pass. On top of that first climb there is already a food station. But there are many more to come and most of them are really good equipped. They nearly all had isos, gels, fruits and even beer, yoghourt (without alcohol). All supporters had some motivational words and the big cow bells had been rung very loud.
During the day i become hot. The first half of the day was not that difficult, but after midday i become above 20 degrees even on the higher trails.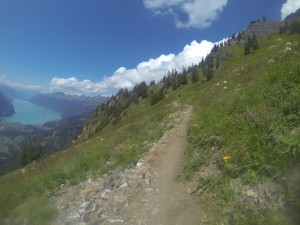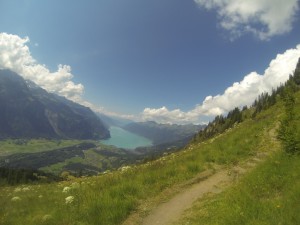 Later some clouds came up but no rain. 
There have been some exposed trails on the way, but most of them had been easy to run on. The exposed ones have been saved by markings and personal, that checked every runner at least by sight, if he would be able to pass it.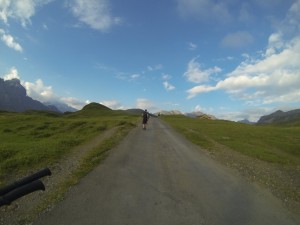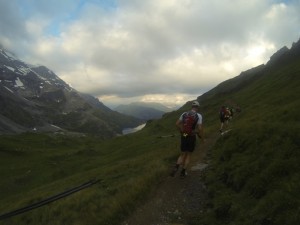 The finish seems quite close. But it is still a long way up to the mountains and to the finish. This is the last part of the race. Maybe only 1km of beeline. But the path goes up as serpentines.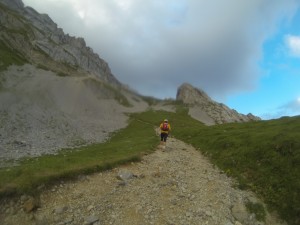 That is the way you come all the way up.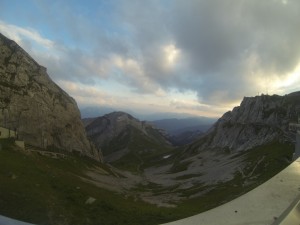 Nice view from the finish over Lucerne and the Lake Lucerne (Vierwaldstätter See)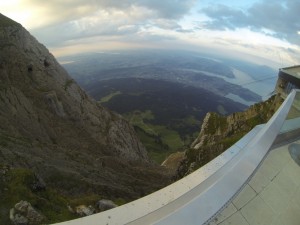 At the end of the race you take the train back to Alpnachstadt. It takes about half an hour to start and also about that long until you arrive back in Alpnachstad again.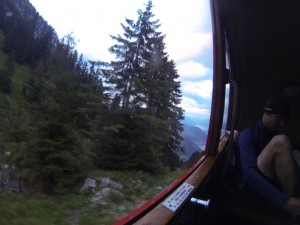 Here is my grading. Any comments appreciated.
grading overall: 8 pts
route: 8 pts
difficulty: 4 pts
markings: 7 pts
organization: 10 pts
food: 10 pts
costs: 8 pts
fun: 10 pts